Lori Toppel's novel, Three Children, was nominated for the Hemingway Foundation/PEN Award. Her stories have appeared in such journals as Antioch Review, Atticus Review, and Del Sol Review.
Susan Hodara is a journalist, memoirist, and teacher. Her short memoirs have been published in a variety of literary journals and anthologies, and her articles appear in the New York Times, Communication Arts, and other magazines. She has taught memoir writing since 2002.
Vicki Addesso began writing memoir in 1998 and is working on a collection of short stories. She works part-time doing research for the Treeture Environmental Education Program.
Joan Potter is a writer and teacher whose work has appeared in magazines, literary journals, and anthologies. Her most recent book is African American Firsts: Famous, Little-Known and Unsung Triumphs of Blacks in America, 4th Edition (Kensington, 2013).
Still Here Thinking Of You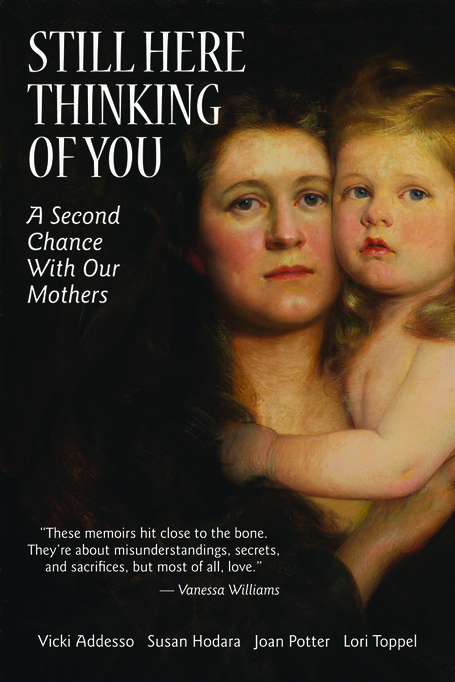 At first, theirs was like any other writing group: pieces were read and reviewed, revised and read again. During the early months, Joan, Vicki, Susan, and Lori brought in stories with a variety of themes, exploring fiction and memoir. But then an unexpected pattern emerged – they all started writing about their mothers.
In Still Here Thinking of You: A Second Chance With Our Mothers, four writers from very different backgrounds remember their mothers in a unique and poignant way: together. In the process, not only did their understanding of one another deepen, but their perceptions of their mothers were transformed.
Revealing pain, humor, tenderness, and, finally, empathy, Still Here Thinking of You taps into that universal pulse, the bond between mother and daughter.
Praise for Still Here Thinking Of You
"This is storytelling as art. The authors excel in their ability to pull you into their recollections knowing, it seems, that you are out there vicariously living through their revelations and your own similar, heartfelt and heartrending reflections.
These are not stories of ceaseless love for mothers now passed away. They are not sugarcoated apparitions dipped in shiny caramel of revised recall… It's an invitation to take a similar journey — to remember the trying and the uplifting." — Kathleen Reardon,
Huff Post Books
"These stories take us to the heart of where we all live, the endless bond between mother and child. They are honest and lyrical, painful and funny, a final reckoning and a testament to the vanished past ~ soul work right there on the page."– John H. Richardson, writer at large, Esquire
"While the exploration of the past is what drew me in to Still Here Thinking of You, it is the transforming nature of the narratives that inspires readers to flip the script and look at their own relationships with their children that ultimately marks this book as a winner…" — Dawn Roode, editorial director, NYMetroParents
"These memoirs hit close to the bone. They're about misunderstandings, secrets, and sacrifices, but most of all, love."– Vanessa Williams, actress, singer, author
To learn more about Still Here Thinking Of You: A Second Chance With Our Mothers or about the authors, please visit their website or connect with them on their blog.
To learn more about "On Courage," please click here.