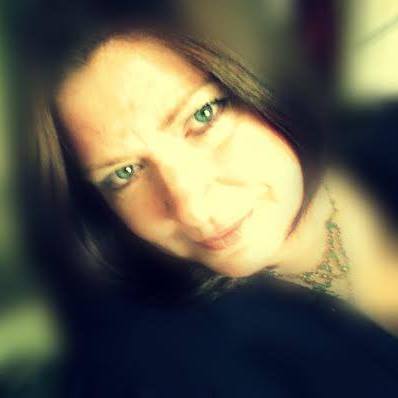 I've wanted to write an important book ever since I was in the 4th grade. However, I couldn't have imagined that important book would be about such a tragic topic. I was 40-something before I waded into the publishing pool with 3 books of poetry I'd compiled over the span of 3 decades. In 2012 I published my first clinical book, a do-it-yourself recovery workbook entitled, Never Enough. I've earned an AA and a BA in Applied Psychology, and completed my academic studies for my master's degree in mental health counseling. I've been busy running a private practice as a Life Coach and Clinical Hypnotherapist since 2003, and also was the worried single mother of a severely depressed teen. In 2013 my daughter secretly stopped taking her anti-depressant, and in the middle of the night took her own life. Life as I knew it came to a screeching halt. Although I'd worked as a mental healthcare professional for over a decade, nothing I'd learned prepared me to lose my own daughter in such a devastating way.
After my daughter's suicide, I realized that this was the book I was meant to write. Writing has been cathartic, and has helped me to heal. Years later, I enjoy supporting other people as a Life Coach and Hypnotherapist. I write for my mental health blog: www.ninabingham.blogspot.com, and am working on my 6th book, but my greatest joy in life is to coach people as they make a comeback.
Because if I can, anyone can.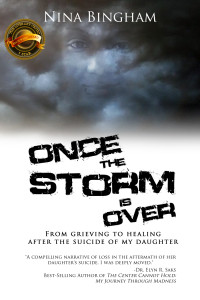 When Nina Bingham lost her fifteen-year old daughter to suicide, she thought her own world would end. But what she learned about love and forgiveness changed her life forever. It will change yours, too.
A profoundly moving account of a counselor's struggle to come to terms with her depression, and her daughters suicide. Raw and honest, she shares her painful past: an abusive alcoholic father, a failed marriage, the rejection she suffered after she came out as a lesbian, and her own brush with suicide. What could have been a story mired in self-pity and misery, ultimately is a story of hope. Nina's compelling life journey shows how pain and loss can be transformed into strength and purpose.
Once The Storm Is Over unapologetically rips apart the façade of coping to show the devastating aftermath of a child's suicide and how a mother, flawed but courageous, learns to live again. Described as brave, insightful and inspiring, this book is sure to make its mark in the literature of suicide recovery, and be remembered for its profound and healing message. The book has garnered outstanding reviews from suicide prevention organizations, expert psychiatrists, best-selling authors on suicide, mental health and parenting magazines, as well as grief recovery organizations worldwide.
Praise for Once The Storm Is Over
"Nina Bingham's Once the Storm Is Over: From Grieving to Healing After the Suicide of My Daughter, offers a compelling narrative of loss. In the aftermath of her daughter's suicide, Bingham weaves strands of their shared life together and forges a new path forward for herself. I was deeply moved." — Dr. Elyn R. Saks, International Best-Selling Author of The Center Cannot Hold: My Journey Through Madness, and Associate Dean and Orrin B. Evans Professor of Law, Psychology, and Psychiatry and the Behavioral Sciences at the University of Southern California Gould Law School
"Nina Bingham's book is a jolt to the heart to any of us who have survived suicide or raised children in the shadow of it. As Nina says, so many parents cannot imagine surviving the death of thier child, and neither could she, but she does! She chooses health and healing and light despite being driven to her knees, heartbroken by her daughter's suicide. This anguished love story will haunt you and inspire you. I ask you to read it. For your sake." — Dr. David Treadway, author of Dead Reckoning: A Therapist Confronts His Own Grief
"Tragedy happens in families whether you are a gay or straight parent. In her memoir, Once The Storm Is Over, Nina Bingham offers valuable insight to others by sharing her experience of generational clinical depression, coming out in a religious family, and of her daughter's suicide. A gifted writer, Bingham is also a courageous soul." — Angeline Acain, Publisher and Editor, Gay Parents Magazine, www.gayparentmag.com
To learn more about Nina's work, please connect with her at any of the following links:
Living Enlightened Life Coaching Show: http://www.charlotteview.net/living-enlightened-with-life-coach-nina-show.html Check out my new book! www.oncethestormisover.com Books: www.amazon.com/Nina-Bingham/e/B008XEX2Z0 Website: www.living-enlightened.org Blog: www.ninabingham.blogspot.com Twitter: www.twitter.com/liv_enlightened